Are you a spiritual healer that has yet to identify your unique gifts to the world? Have you been reluctant to embrace your energetic healing gifts? If you are reading this, you are more than likely a healer.
Many of us are a bit reluctant to come out of the closet, though and need to learn to heal ourselves first before becoming useful as a healer for others.
You may wish to read my prior post about taking time for healing yourself.
Is Everyone a Healer?
What makes someone a healer? To a certain degree, everyone is born with the capacity to heal others. A spiritual healer is someone who has a better ability than most to sense emotions in others and make sense of what their needs are at a particular point in time.
People come to you for help because you have that heightened healing ability. You are able to help others connect with what they have forgotten. It is almost like you have an energetic mark on your forehead that others can see, but you cannot. It is what draws people to you to tell you of their problems seemingly out of the blue.
Everyone brings their own set of gifts to the world and shares what they can. Everyone has some healing ability, but there are those of us who have strong enough gifts to actively use it in our own lives and use those gifts to help others.
It really doesn't matter which healing modality you choose to pursue, whether its Reiki, intuitive readings, massage, or any of the other types of energetic healing techniques.
Why are you afraid to step out into your own divine goodness? Do not be afraid to use your gifts. You have them for a reason and please consider them a blessing. They are part of what makes your soul sing and should be recognized as such.
Traits Of A Spiritual Healer
Do you recognize yourself with any or all of these traits? Do you have any to add? Leave a comment below.
Highly sensitive to energy around them. Your energy may cause light bulbs to burn out frequently or cause street lights to flicker.
Highly empathic and easily able to sense the emotions of others.
May consider themselves an Indigo Child or Adult.
People may take an instant dislike to you, as they are rejecting your healing energy.
Can you walk into a room and immediately sense the mood?
Certain drugs may be ineffective or have an odd reaction.
Do children and animals gravitate toward you?
Do you feel like you pick up everyone else's emotions and have difficulty discerning them from your own?
Healing Yourself First
Many people who are natural healers have had their own sets of harsher than normal challenges in their life and need to take the time and effort to heal themselves first before they can begin to successfully help others heal in a positive way.
If you have had more than your "fair share" of upsets in your life, healing your thoughts and emotions first is a good place to start. Remember…"physician heal thyself".
Make healing yourself a priority first. Eat a clean diet, clean up or at least diminish unhealthy habits and keep your life in balance.
The Energetic Reason You're Not Where You Want To Be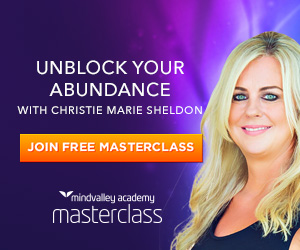 Everything is connected. That's why, when one area of your life is unbalanced – say, stress from working long hours trying to get ahead – everything else seems so much harder.
This is especially true when it comes to abundance. When you're constantly worried about paying the bills or going to a job you hate every day, everything else gets put on the back burner.
Suddenly, you have no room to develop or grow. That's what is called an 'Abundance Block'.
They can be tricky to uncover on your own, which is why I'm so excited to introduce Mindvalley's free 'Unblock Your Abundance' Masterclass featuring the incredible Christie Marie Sheldon.
And you're cordially invited >>
If you haven't heard of Christie before, she's a remarkable woman with a special gift… The ability to connect with other people so that they start to magnetically attract success and abundance on autopilot.
Not only will you get to learn what Christie's methods are all about, but you'll also get to experience a 20-minute Energy Clearing session guided by Christie that will permanently erase one of the biggest 'Abundance Blocks' affecting most people today.
You can learn more about Energy Clearing here >>
Free Numerology Report
Do you want to know what your personal numbers are and what they mean in your life? Find out what makes you tick. Reveal your true nature and character and use it to change your life. Get a free numerology report by clicking here.