Are you ready to embrace your soul purpose and discover your unique gifts? You have value and now is the time to acknowledge and express your gifts.
You incarnated on this Earth with unique talents and gifts to share. Have you started sharing them with the world?
Understanding your soul purpose is easier than you think, but sometimes we make it difficult on ourselves. More than likely, you are fearful of how powerful you are and how your life would change as a result. You end up ignoring your intuition and messages from your Spirit Guides because of these fears.
When you realize and understand how and where you are playing small, you allow yourself to discover your true life purpose and soul level gifts.
How To Embrace Your Soul Purpose
You have many ways available to discover your soul purpose and much of it comes down to realizing and owning your value. Your intrinsic value is larger than society would allow you to believe about yourself. You have value and now is the time to acknowledge and express your gifts to the world.
Understand your soul purpose – If you wake up one day feeling stuck living someone else's version of life instead of your own, know you are far from alone. Understand how we all get off track from time to time.
How to own your value – Sometimes we think our purpose is just going to drop from the sky or show us via a large neon sign. Perhaps it does for some people, but for the most of us recognizing and owning your value is where you find your passion.
Can discovering your soul purpose be easy? – Sometimes we make things more complicated than necessary, but what if embracing your purpose was easier than you think? Answer five questions in this short exercise and see what you discover about your soul level gifts.
Do you feel you are too old to do you purposeful work? – Release old conditioning and feeling like time is running out when it comes to finding your passion.
How You Avoid Your Soul Purpose
For the most of us, conditioning by society, family, or friends influences our choice of work and career. When your soul's purpose fails to fit into general accepted ways of living, it can seem uncomfortable to step outside the norm. To have a fulfilling life, you need heightened awareness so you recognize how you avoid stepping into your life's work.
Three ways you avoid your life purpose – Confusion, devaluing your gifts, and searching for information are ways you avoid stepping in to your life's true work.
Do you have someday syndrome? – We have all the time in the world, right? Umm… no. Find out how putting off doing your life purpose is hurting you and what to DO about it.
How to ask concise questions and receive clear guidance – Start reprogramming your conscious mind and get yourself unstuck. How you choose to word your questions affects your intuitive guidance.
Understand how to overcome disappointment– If viewed under a different light, using disappointment as a teaching tool helps bring clarity to your passions.
Do your intentions match your inner desires? – Learn to recognize when your and where intentions and desires mis-align and close the vibrational gap.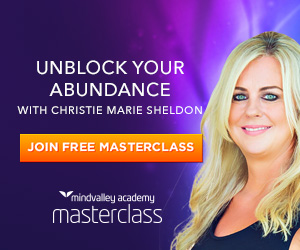 The Energetic Reason You're Not Where You Want To Be
Everything is connected. That's why, when one area of your life is unbalanced – say, stress from working long hours trying to get ahead – everything else seems so much harder.
This is especially true when it comes to abundance. When you're constantly worried about paying the bills or going to a job you hate every day, everything else gets put on the back burner.
Suddenly, you have no room to develop or grow. That's what is called an 'Abundance Block'.
They can be tricky to uncover on your own, which is why I'm so excited to introduce Mindvalley's free 'Unblock Your Abundance' Masterclass featuring the incredible Christie Marie Sheldon.
And you're cordially invited >>
If you haven't heard of Christie before, she's a remarkable woman with a special gift… The ability to connect with other people so that they start to magnetically attract success and abundance on autopilot.
Not only will you get to learn what Christie's methods are all about, but you'll also get to experience a 20-minute Energy Clearing session guided by Christie that will permanently erase one of the biggest 'Abundance Blocks' affecting most people today.