Unlock The Hidden Mysteries
Of Repeating Numbers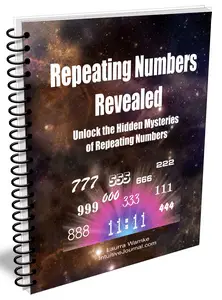 Request my free report, 'Repeating Numbers Revealed! Unlock the Hidden Mysteries of Repeating Numbers,' and discover how to harness the power of repeating numbers! Get instant access to my FREE report plus receive my newsletter and discover how you can begin using angel numbers to your advantage!
Answer the question: I see repeating numbers all the time…is there something I need to do?
How to use repeating numbers as confirmation of your soul level gifts.
My personal interpretations of the meanings of repeating number sequences including 111, 222, 333, 444 and more.
Your email address will be kept confidential and won't be shared with anyone. You can unsubscribe any time just by clicking a link in any issue.
[thrive_leads id='11185′]
What to expect after subscribing:
Once you have entered your name and email address into the form below, you will be sent a confirmation email. In order to be signed up for the newsletter and receive your free report, you need to click on the confirmation link in that email. You will then receive a welcome email stating that you are fully subscribed. The welcome email will have the link to download the report.
If you do not receive the first confirmation email within an hour of entering your information, please check your spam folder. Chances are good that it got caught in there. If you still haven't received the confirmation email, you will need to come back to this page and re-enter your information. Also please add this email address to your safe senders list: contact @ intuitivejournal.com (please remove spaces). That way you will be assured of receiving this newsletter.
Valuable Resources I Love
Never In Your Wildest Dreams - If you're tired of playing small and you're ready to show the world what you have to offer then discover an easy tool to erase your no. 1 limiting belief - and allow your income, career, relationships, and health to thrive. Ready to stop settling? Click here.
Ultimate Success Blocker - A free 30-second quiz that helps you discover what's really keeping you financially stuck. Bust through those subtle beliefs so you can experience more wealth, happiness, and love in your life.
Manifesting Through The Akashic Records - Have you ever wondered why some things seem so hard to manifest? Click here to watch this free training.
60 Second Life Success Quiz - Are you on the path to ultimate life success? Why leave it to chance? I highly recommend that you take this 60 second quiz and then check out your customised report that comes from it.Go here for the 60 second life success quiz (and personalized report)
Free Numerology Report - Do you want to know what your personal numbers are and what they mean in your life? Find out what makes you tick. Reveal your true nature and character and use it to change your life. Get a free numerology report by clicking here!