Thank You for Signing Up!
Please follow the steps below to complete the process:
and scroll down to check out the special offer below…
1.
Check your e-mail inbox
2.
Open the confirmation email
3.
Click the confirmation link
Go to the inbox of the e-mail address you used to sign up.
Find the message sent by us.It has the subject line"ACTION REQUIRED! Before You Can Access Your Free Report Please Confirm Your Email Address" and is sent by Intuitive Journal.com.
Click the link in the email and you will receive a separate welcome email shortly after with a link to download yourfree report!
Should something be wrong with your subscription, just use this contact form and I will gladly take care of it.
How To Find Eight Extra Hours Per Week
To Build Your Spiritual Business
Do you wonder when you will find the time to finally start building your spiritual business?
Do the days and nights seem to run together and when the end of the week comes you find you have only spent a few hours on building your business?
Do you find yourself in the start-stop-start again pattern and feel like you are making little progress?
One thing that stops you from stepping into your purposeful work is finding extra time to work on your spiritual business. This is something many of my private clients have struggled with in the past and something I struggled with when I was still working forty hours per week and had a young child.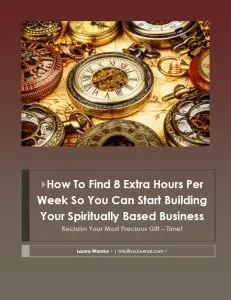 In fact, one of the biggest questions clients ask me when during a reading or mentoring session is "How did I find the TIME to get started building my business?"
What if you had a way to reclaim precious hours from your week so you could really make progress building your new healing business?
I want to let you know there is a way to carve out extras hours in your week.
Therefore, I decided to write down and share with you everything I learned about how to carve out chunks of time when I was first developing my business. It is one of the very first steps to building the business of your dreams.
Get Started Building Your Spiritual Business Now!
Get Instant Access!
Think about what you could accomplish with those new found chunks of time. How much money are you leaving on the table by letting your business go by the wayside?
You could use this time to:
Finally launch that new website.
Finally send that email to your list.
Make those follow-up calls to prospective clients.
Finally figure out how to implement a Facebook ad.
You get the picture. Are all of those things on your business to-do list getting done?
If you have found the same items perpetually on your to-do list, isn't it time to reclaim your time?
In this 37-page downloadable e-book you will learn:
How to carve out 8 extra hours per week to work on your spiritual business.
3 methods to help you identify and fix time leaks in your day
5 worksheets and exercises to help you find those extra hours.
This digital download is normally $47, but you can have it right now for only $7. (A $40.00 savings.)
Get Instant Access For Just $7
Once you place your order, please check your email inbox for a welcome email that will contain the download link.
If you don't see your welcome email within an hour please check your junk/spam/promotions folders or email me at contact@intuitivejournal.com and I will take care of it.
Sorry, this product is not available on hard disc at this time and no refunds are offered due to the digital nature of this product.