3
First Chakra Energy Center – The Root Chakra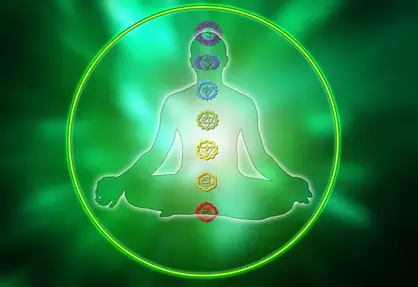 The root chakra, or base chakra sits at the bottom of the spine and is known for grounding and physicality. Learn how to balance and connect with your first chakra. It is the first of the main seven chakras in order from the spinal base to top of the head and shown by the color red in the photo to the left.
I have also written about the 2nd chakra, 3rd chakra, 4th chakra, 5th chakra, and 6th chakra.
Chakras are energy centers within our bodies. Each of the main seven chakras focuses on different areas of our body. The Muladhara root chakra, or first chakra, governs our physical world, grounding and connections with ourselves and others. It governs feelings of connecting yourself to the earth and being one with your physical surroundings.
Red and the First Chakra
Red represents the first chakra and fiery hot emotions, thoughts, and feelings. The types of negative emotions ruled by the root chakra include humiliation, embarrassment, belonging, crimes against our body, fear and grounding. It relates to the Earth element. These emotions can lead to this chakra being underdeveloped, almost as though it is in hiding. In order to balance this chakra, you first need to learn how to connect with it.
Connecting with your First Chakra
First imagine long roots extending from bottom of your spine and going deep into the ground. Imagine these roots traveling deep into the center of the earth, connecting with your core energy. Meditation is quite useful for learning to connect. Here are a few recommendations for meditation CD's.
Learning to find love within yourself and accepting yourself as you are now can help to balance and align the energies in this chakra. By balancing the root chakra, you will begin to feel more in touch with who you really are as a human being and how you fit into this life. Approval of self has a lot to do with an unbalanced base chakra.
Chakra Balancing for the Root Chakra
The use of affirmations is a technique you can do almost anywhere, such as "I approve of myself". Repeat this at least 50 times daily or as needed. It goes to your core being. I have used this particular affirmation and had great success with it as it helps you regain your center.
A barefoot walk in the grass in warmer weather is a wonderful way to balance the root chakra, as the earth under your feet helps to deepen your connection with source.
Essential Oils for the Root Chakra
Incense
Another way to balance the first chakra is burning a woodsy incense made up of sandalwood and cinnamon. These earthy scents balance the energies of our bodies to bring the chakra back into alignment. Here are two of my favorites: Golden Pavilion (Kin-kaku)
and Abundance (Full Moon)
both by Shoyeido Corporation.
Chakra Balancing Crystals
Try wearing a necklace or bracelet made with crystal stones like blood stone, hematite, and red jasper to stimulate the root chakra. Garnet, agate, onyx, ruby, black tourmaline, smoky quartz,  red corral are nice choices as well. Etsy.com is a wonderful place to shop for handmade jewelry using beautiful crystals like the ones mentioned.
Are All Of Your Chakras Open? (Free Test)
The great scientist Nikola Tesla once said, "If you want to find the secrets of the universe, think in terms of energy, frequency, and vibration."
So tell me, when was the last time you checked on your energy system? Your energy system is comprised of 7 Chakras that influence your life, and a block in any one of these could be seriously affecting your levels of health, wealth, love and happiness.
But don't worry… Carol Tuttle, one of the most respected energy healers in the world has prepared a quick quiz that will allow you to diagnose the health of your energy system, and see if any of your Chakras are blocked: >>> Click Here to Take The Chakra Quiz (5 Minutes)
A block in one of your Chakras could be SERIOUSLY affecting you without you even realizing it.
So take this quick quiz and find out if that's the case: >>> [Quiz] Is a Blocked Chakra Sabotaging Your Success?