Blue Lace Agate is a healing stone that has metaphysical properties of bringing calm, happiness and peace to the wearer. It is also known as the "communication stone". I have also written about other healing gemstones if you wish to read more.
Its tranquil colors of the palest blue and white assist in promoting a positive mood, serene energy and calming the senses. It is an uplifting stone that can help to regain peace in your hectic day.
Blue lace agate can help regain calm in stressful situations by neutralizing angering thoughts and allowing communication to flow smoothly in a positive manner. It has been called the "communication stone".
Stone Color
This stone is a very light blue and white, with delicate bands of each color throughout the stone. The effect is that of a delicate lace, as each band is so fine.
Metaphysical Healing Properties
Read how to cleanse your crystals and gemstone before use.
Carry this stone with you if you will be speaking in public. It can help to allow your thoughts to come through verbally.
It is also a stone to help eliminate blockages in the throat chakra that come from not being allowed to express our thoughts and emotions. Blue lace agate can take the edge off of a sharp tongue and help you to choose your words more carefully. It will gently help you to communicate is a healthier and more relaxed manner.
The healing from this stone is more gentle than others, allowing an easy transition to a better frame of mind and ability to express oneself.
Blue Lace Agate Associations
Chakras: 5th Chakra, Throat
Planet: Neptune
Zodiac:  Pisces
Element:  Air
Use Crystals for Physical Healing
Do you want to know which crystals and gemstones to use for certain symptoms?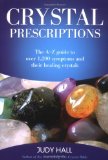 The book Crystal Prescriptions, by Judy hall lists over 1,200 physical symptoms and how to use specific crystals and crystal combinations for effective healing.
Crystal healing is a gentle, non-invasive form of holistic healing with no ill side effects. Suitable for children and animals, they can also benefit your environment and your home.

Read the reviews here: Crystal Prescriptions: The A-Z Guide to Over 1,200 Symptoms and Their Healing Crystals
.
More About Crystals and Gemstones
Cleansing Crystals and Gemstones
Himalayan Salt Lamps Bring Serenity To Your Home
Unique And Meaningful Spiritual Gift Ideas
Metaphysical Properties of Clear Quartz
Healing Properties of Labradorite