The metaphysical properties of clear quartz include healing and clearing your aura. Learn how to use this all-purpose gemstone for clearing negativity, improving focus, and aiding meditation.
This is one of the gemstones that I had purchased on our past vacation. You can read more about some of the other crystals and gemstones.
Metaphysical Properties Of Clear Quartz
Clear quartz is a powerful general purpose all-around healing gemstone. It protects and clears negative energy, clears the aura, and has excellent healing properties. Therefore, it can also be used as an aid in meditation and to improve mental focus.
It channels the energy of the universe to rejuvenate and bring balance and harmony to your chakras and your soul. I call this stone "The Protector". Quartz is also known as a universal or master healer.
Stone Color
The stone color is clear. It radiates all the colors of the spectrum. You can buy it in a smooth tumbled form or in a rough cut.
Metaphysical Healing Properties
Clear quartz can be used to bring down a fever, bring pain relief and reduce swelling. Furthermore, when used together with other crystals it amplifies their healing properties. It is known as a master stone that can be used in conjunction with any other healing gemstone.
Crystal Quartz Associations
Chakras: associated with the crown chakra
Angel: Archangel Uriel
Planet: Sun
Zodiac: All Zodiac signs
Using Clear Quartz Crystals for Physical Healing
Need help deciding which crystals and gemstones to use for certain symptoms?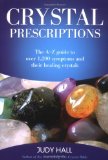 The book Crystal Prescriptions, by Judy hall lists over 1,200 physical symptoms and how to use specific crystals and crystal combinations for effective healing.
Crystal healing is a gentle, non-invasive form of holistic healing with no ill side effects. Suitable for children and animals, crystals can also benefit your environment and your home.

Read the reviews here: Crystal Prescriptions: The A-Z Guide to Over 1,200 Symptoms and Their Healing Crystals
.
Image Information: © Martinan – Fotolia.com
More About Crystals and Gemstones
Cleansing Crystals and Gemstones
Himalayan Salt Lamps Bring Serenity To Your Home
Unique And Meaningful Spiritual Gift Ideas
Metaphysical Properties of Blue Lace Agate
Healing Properties of Labradorite