3
The Second Chakra Energy Center – The Sacral Chakra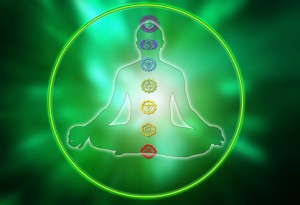 The Sacral Chakra energy center governs creativity, reproduction, and daily relationships. Learn to heal and balance your second chakra by the use of meditation, crystals, and forgiveness. The Sanskrit name for this energy center is Swadhisthana.
This is the second in a series of posts about the energy centers of the body. I have also written posts about the First Chakra, Third Chakra, Fourth Chakra, Fifth Chakra and Sixth Chakra.
The second chakra appears just below the naval in the lower abdomen area. Physically, this chakra represents the area of reproduction and sexual organs. It governs your hips, groin, bladder, and large intestine. The color orange and the element of water represent this chakra.
Balancing the Sacral Chakra
When the sacral chakra is in balance, it represents an outpouring of creativity through newborn thoughts and ideas. It also governs healthy relationships and your everyday interactions with people in your daily lives, the ability to cope with day-to-day events, and healthy emotional attachments to people. This chakra is about learning to consciously interact with others around you in a healthy manner. It represents physical grace, the Law of cause and effect, and choices that you make.
The sacral chakra is perhaps best known for governing sexuality. This involves warm and loving attitudes about the creation of life, sex, fertility, procreation, and emotions.
When this chakra is out of balance, issues of self-respect, fear of losing control, financial loss, ability to survive and thrive, and poorly balanced relationships are present. Eating issues such as anorexia and bulimia, along with buried emotions and depression connect to an unbalanced second chakra.
Blockages can manifest into sexual problems such as infertility, impotence, lack of sexual desire, and physical awkwardness, all having their roots within this second energy center.
Negative thoughts and actions arising out of fear also drain energy from this chakra. Energy given to dead-end jobs or relationships, domination by others or situations, gossip and manipulation drain life from this energy center. Problems with survival or the ability to survive hit home here too.
Orange and the Second Chakra
The color orange is a warm vibrant color that represents the sacral chakra. It has an intense high energy. Think of it as a bed of glowing embers that radiates warmth and heat to the rest of the body.
Wearing the color orange can bring this chakra into balance. Even touches of it, such as jewelry or earrings can have a balancing effect. Decorate your home with orange flowers or pumpkins or other orange accent pieces to bring the chakra into harmony.
Foods
Eat fresh oranges, pomegranates, raw carrots, pumpkin, salmon, and other orange-colored foods.
Drinking plenty of water helps the chakra to flow properly as well.
Essential Oils
Try essential oils either individually or in combinations of tangerine, cinnamon, jasmine, coriander, and sandalwood.


Incense
Look for incense with gardenia or lavender added into other scents.


Chakra Balancing Crystals and Stones
The use of crystals can help to bring chakras into balance. Wear them as jewelry or carry one in your pocket.
These stones are good choices to balance the second chakra: Carnelian, Tigers Eye, Moonstone, Garnet, and fire agate.


Can your body, even your blood, vibrate with love?
Love is the secret to healing and it has a higher vibration. As you know, human beings are a spiritual entity that is having a physical experience. That means, you have an inner energy (spiritual) and your body (physical) is a reflection of your inner energy.
When we are having a disconnect with our inner energy or if our inner energy is disturbed, the physical part of it, the body, starts reflecting what's underneath it. That's where illnesses start. So by connecting with and raising your inner energy to the level of love, you can heal yourself effortlessly. You just need to know how to connect with your energy and turn it around and that's what Christie Marie Sheldon is teaching in her Energetic Breakthrough Kit.
She is sharing with you her simple techniques to raise your energy vibrations, that have already helped over 30,000 people lead a healthy, peaceful and stress-free life: >>> Download your Energetic Breakthrough Kit here (yes, it's FREE)
Discover 12 powerful energy tools you can apply instantly to raise your vibration and clear your manifesting blockages — allowing you to finally accept everything the universe sends you… from Love to Abundance.