Are you ready to leave the daily grind and jump headfirst into building your spiritual business? Whoa! Not so fast! Let's talk about how to start your spiritual business before you quit your day job.
One of the questions I frequently get asked when talking to clients is how to get started building their own spiritual businesses.
What To Know Before You Start Your Spiritual Business
One of the main issues with being an Empath is that your abilities are more than likely constantly switched to on mode which leads to overactive empathy. You want to give, and give, and give some more. This is a beautiful trait, but one that will drain you and keep you from earning income. You can connect very well, but you may not know how to shut things off. This is where a professional intuitive development course can be helpful. You need to have a specific log-in and log-out process in place. I highly recommend a professional course of some type before hanging out your professional shingle.
Your Business WILL Interfere With Your Current Life
Your new business WILL interfere with your current life. Your children and spouse may frown when you board a plane to attend a business or healing event and will be gone for three days. They will tell you you don't really need to go. You might even tell yourself you don't need to go. But you do – and you will love it.
You need to get out of your element and connect with like-minded people, whether 5 states away or something local. That is how you will know you are not an island. You will worry about your children when you are gone, but it is the only way to fully connect with others. Make time for yourself to be able to explore something new, even if it is a wellness event at a hotel nearby for the afternoon. You need YOU time, especially when you are first starting out.
Strengthen Your Boundaries
Building a website for your business and building a business for yourself in general WILL interfere with motherhood. In fact, anything you do different from what you are doing today WILL interfere with what you are currently doing. The opportunity this brings is to see where your boundaries need to be clarified. All sorts of things come up, like your changing role in the family, out-earning your spouse, and much more. You are strong enough to deal with those types of things as they come up.
Find Others With Similar Skills
Your immediate friends, family, and neighborhood may not "get" you. They do not have to. But you do need to be around others that have similar skills and viewpoints as you do.
Look for a few Facebook groups to join. You may not find any immediately, but there are a few good groups out there.
Try Meetup.com for your area. See if there are any groups in your area you have an interest in attending. Try two or three and see if you are a fit for a meeting or two. You don't know until you try. You can also meet like-minded people this way.
Look up any wellness facilities or shops in your area. Stop by and introduce yourself and see what they are offering. Join a class if you have an interest. Usually these are relatively low cost.
Website Recommendations
Here are a few websites of people I have followed for many years – some since 2006 or so. They are actually not in the healing business at all, but will give you some of the foundation and mindset shifts you need to start and build a business of any type.
I Will Teach You To Be Rich
My Wife Quit Her Job
Itty Biz
David Nagle
No More Starving Healer
Okay, so no more starving healer.  🙂 That means you need to CHARGE for your services. No more free snacks of your healing abilities for your friends. 🙂 Stop giving away your services for free and stop digging up research for them. If you want to make money you need to own the value of what you do, which DOES mean charging for your services, even if you start with $50.00 per session.
Yes You Can Do Both!
BTW – there is absolutely nothing wrong with selling your crafts or other wares first if you don't want to delve into the healing business just yet. I started in 1999 online selling quilts. Yes…I have been online when the internet was a lot like the wild west! I also still have a recipe website I started in 2005.
So, the point is, just get started doing something!
Your next step is research. Really think about what a business could look like for you. At home…online…10-20 hours per week…how do you envision your ideal business? Think Bigger!
How To Find The Time To Build Your Spiritual Business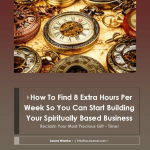 – Do you wonder when you will find the time to finally start building your spiritual business?
 – Do the days and nights seem to run together and when the end of the week comes you find you have only spent a few hours on building your business?
 – Do you find yourself in the start-stop-start again pattern of business building?
One thing that stops you from stepping into your purposeful work is finding extra time to work on your spiritual business.
How to carve out 8 extra hours per week to work on your spiritual business.
3 methods to help you identify and fix time leaks in your day.
5 worksheets and exercises to help you find those extra hours.
Save
Save
Save
Save
Save