Self-sabotage is like a mirror reflection of where we are and what is standing on our way of receiving what we have asked for. Learn to get out of your own way.
On Friday I made the following post on Facebook, "Today my guides have been telling me to "Get out of my own way" and "Get over it". It seems I am getting a mirror shown to me every time a self-sabotaging thought enters my mind. It is kind of eerie in a way being made aware of how many obstacles I have created for myself, all of my own doing. Sheesh! I think it means I am finally ready to let go of some of those obstacles." 
It seemed to resonate with a few people, so I thought I would expand on that thought. Here is another post I wrote on how we sabotage our dreams.
Great Intentions
It starts by sending out an intention to the Universe for something we really want. We love this part because we are usually in a high vibrational state and looking forward to seeing results. The Universe then brings back a reflection of where we are and what is standing in our way of receiving what we asked for, usually fairly quickly.
It is just like a mirror. There is a perfect action and reaction going on to let us know exactly where we are at. Once you understand that it is only a reflection, and not a punishment or getting victimized, it really can become rather fun to see what shows up. It is like the Universe is saying, "Oh, you want that? This is how it looks from our side".
Ways We Sabotage Ourselves
Here are a few of my own examples. If you want to chime in with your thoughts or own examples in the comments below, that would be much appreciated.
I recently set an intention to allow myself to speak clearly and be heard. The result was that later that night I started feeling sick. I ended up with some nasal sinus cold that makes me sound horrible and a slightly sore throat. Why would I manifest that? Because there is still a fear of speaking clearly to others. The mirror is saying that I don't believe what I say has enough value to others.
I wanted to get a new photo taken for this blog. I even have a gift certificate from Christmas. So, I thought a few day ago, I am going to call and set an  appointment. Lo and behold, the next day I had a very bad flare up of acne. I have struggled with cystic acne for most of my life. Why would I manifest that? Well that would require me to examine the real reasons for not wanting the photo taken, like not having lost the weight I wanted and knowing that I haven't taken care of myself as I should have to take a great photo. It would be a reflection that I have aged. The mirror is saying that I am not practicing enough self-care.
I have also set an intention to go on a warm tropical vacation and lose weight before then. Then I end up consuming 3 times the amount of food and drink I normally would during the weekend, eating things I know are poor for me. What this brings to light is that you really don't want to look at the underlying reasons the weight went on in the first place. The mirror is saying I don't value myself enough to take the time and effort to look great and perhaps also that I don't really think I deserve to go on that vacation.
Don't you love the games we can play?
Ways We Grow From The Experience
As someone who believes that we are 100% creator of everything that happens in our lives, it is interesting to delve into how certain instances happen. We are here on Earth not to stagnate and live in fear, but to experience all that we can. We want variety, stimulation, and new fun ways to express our gifts. Our mind is always thinking up new ways to do this.
It is like a game that we play with ourselves. We really want something, and then put up all the obstacles we can think of to now allow ourselves to have it. It is all an illusion.
One of the comments on the Facebook post was quite well put, " It seems that now that we know better we are compelled to better or 'feel the pinch' and therefore we are forced to control our thoughts if we must graduate for divinity or so it seems. As soon as one criticizes or make judgements one becomes it or them. So uncanny!"
What It Really Takes To Overcome Self-Sabotage
Decide – Commit – Succeed
Self-sabotage is a reflection that we have not yet 100% decided what we want. We have not yet burned the bridges to make the intended result we want to be the only result possible.
Leave A Comment
What are your thoughts? Any examples to share and perhaps how you overcame the self-sabotage? Let me know in the comments below.
The Energetic Reason You're Not Where You Want To Be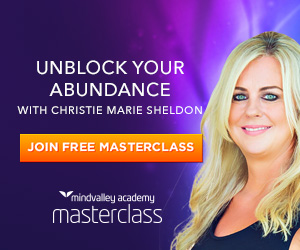 Everything is connected. That's why, when one area of your life is unbalanced – say, stress from working long hours trying to get ahead – everything else seems so much harder.
This is especially true when it comes to abundance. When you're constantly worried about paying the bills or going to a job you hate every day, everything else gets put on the back burner.
Suddenly, you have no room to develop or grow. That's what is called an 'Abundance Block'.
They can be tricky to uncover on your own, which is why I'm so excited to introduce Mindvalley's free 'Unblock Your Abundance' Masterclass featuring the incredible Christie Marie Sheldon.
And you're cordially invited >>
If you haven't heard of Christie before, she's a remarkable woman with a special gift… The ability to connect with other people so that they start to magnetically attract success and abundance on autopilot.
Not only will you get to learn what Christie's methods are all about, but you'll also get to experience a 20-minute Energy Clearing session guided by Christie that will permanently erase one of the biggest 'Abundance Blocks' affecting most people today.