Guided meditations for relaxation and healing allow you to reduce stress in your life, re-center yourself and gain back inner peace that may be escaping you during the busy holiday season.
I woke up this morning thinking about the upcoming Christmas holiday and once again wondering if I would be able to get all of the shopping, baking, visiting, and decorating done in the time line I wanted. I made a list of what still needs to be done and it is quite long. Talk about feeling tense and overwhelmed!
Christmas shopping in particular is something I don't view as a lot of fun anymore because I find myself absorbing energies from strangers and come home totally exhausted. I know many of you have told me that you feel the same way. Gotta love being an empath! Thank goodness for online shopping!
Then there is also dealing with family and relation that you may only see a few times a year. Some you look forward to seeing, others maybe not so much. It all starts adding up to tense shoulders, raised tempers, and a feeling of not having control over a situation. Even in the best of families, this can still be a stressful time of year. Last year I wrote about forgiveness and letting go. A guided meditation can help you to do that.
Guided Meditations For Relaxation and Healing
Over time, I have come to appreciate what a guided meditation can do to bring stress levels into check. You can literally feel the stress leaving your body. I have tried out other meditations on occasion, some free and some that I purchased, but until recently hadn't found any I really connected with.
That changed when I tried this free meditation.
Your Special Meditation Gift
Imagine if meditation was easy.
Imagine if you didn't have to battle with a busy mind, and a restless body. Imagine if it took just a few minutes a day.
And imagine if it brought instant results — LESS STRESS, more happiness, greater focus, improved creativity — immediately.
Well — stop imagining 🙂
You see, today, I want to introduce you to an awesome audio meditation program, called Zen12.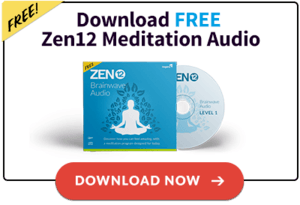 Zen12 gives you a full hour's worth of deep meditation, all in just 12 minutes. It uses "brainwave sounds" to speed up the process, and it's genuinely unlike anything you've experienced before.
Personally, I love this audio. You just listen, and you experience the results. It's meditation for the modern world.
It doesn't cost a penny, and I promise you'll be amazed at the results.
(PS. If you want to try out the full program, risk-free, use the code VZ54YTD6 during checkout. That'll give you $50 off any package you order.)
Save