Experience Marie Sheldon's Legendary Unblock Your Abundance Masterclass and break free from the 24 blocks holding you back from a life of abundance & contribution.
Everything is connected.
That's why, when one area of your life is unbalanced – say, stress from working long hours to try to get ahead – everything else seems so much harder.
This is especially true when it comes to abundance. When you're constantly worried about paying the bills or going to a job you hate every day, everything else gets put on the back burner.
Suddenly, you have no room to develop or grow.
That's what is called an "Abundance Block".
They can be tricky to uncover on your own, which is why I'm so excited to let you know that Mindvalley is hosting their free annual Unblock Your Abundance Masterclass featuring the incredible Christie Marie Sheldon.
And guess what? You're invited >>
If you haven't heard of Christie before, she's a remarkable woman with a special gift… The ability to connect with other people so that they start to magnetically attract success and abundance on autopilot.
Not only will you get to learn what Christie's methods are all about, but you'll also get to experience a 20-minute Energy Clearing session guided by Christie that will permanently erase one of the biggest "Abundance Block" affecting most people today.
You can learn more about Energy Clearing here >>
Since 2012, Christie has held this free session to help set as many people down the path of true wealth and abundance.
Year after year, more people are flocking in to experience it.
And we've seen as many as 85,000 people sign up for these sessions!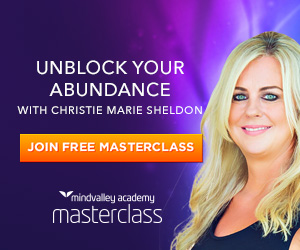 It's not surprising just how popular Christie's annual Unblock Your Abundance events have become. The feedback from attendees have been pretty phenomenal.
We're talking about surprise checks in the mail.
Lucrative business deals manifesting out of thin air.
Brilliant ideas that help you shine at work.
And other unexpected abundance synchronicities.
Don't miss this opportunity to take part in a unique experience and give yourself a terrific start to the upcoming year.
>>> Go here to register for your free spot
P.S. Here's what Tracy L. Cherpeski had to say after one of Christie's clearing sessions:
"Loved it. I cried and cried during the clearing. I hadn't realized how many limiting beliefs had worked their way into my wealth consciousness (or lack thereof, as I learned last night) Thank you for sharing your gift!"
>>> Go here to claim your seat now!
Save
Save
Save