You know that everything is energy. But how do you apply this to your life? Learn powerful ways to bring energy medicine into your daily life.
The last month or so I have been diving deeper into healing my own body using herbs, food, and energy. It is fascinating as there are so many levels to understanding the energy system of our physical body. One of the books I am currently reading is Energy Medicine by Donna Eden.
In the book she talks about energy testing food and it has been very helpful to see which of the foods I eat are helping me and those which are not. Because I know I am not the only one with an interest in this I wanted to share a new resource with you.
There's a new masterclass running this week at Mindvalley Academy called Energy Medicine: The Secrets Of A Master Practitioner by legendary healer Donna Eden. And it's about how you can take back control of your health and wellness by learning to work with energy. This is life-changing material.
You can use Energy Medicine to…
==> Lessen aches, pains, illness, and disease
==> Create deeper happiness, satisfaction, and contentment
==> Increase focus, clarity, and productivity
==> Renew balance, harmony, and well-being
==> Improve overall health and longevity
And all it takes is a few simple non-invasive hand gestures! You'll see what I mean when you join this new Masterclass at Mindvalley Academy.
Click here to register for FREE >>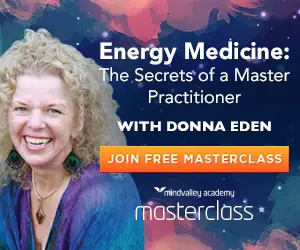 Here's what you'll learn in this 60-minute class:
01 ==> Simple techniques to tap into your hidden reserves of life energy. With these dead-simple techniques, you'll heal, restore, and revitalize yourself naturally.
02 ==> Instant Energy Medicine technique to overcome an afternoon slump. It takes less than 30 seconds, and you'll instantly feel better EVERY time you do it.
03 ==> Two fun energetic shortcuts to conquer stressful situations. Anyone can do this. You don't have to be a healer. It also turns you into a person others secretly admire.
04 ==> Can your energy help you choose the right food? Learn this unusual energetic testing exercise that'll show you what to eat with shocking precision.
05 ==> How a simple kitchen utensil can become a healing tool. It can't get any simpler than that! It could be surprisingly hard to dismiss the power of energy medicine after you watch this.
And so much more.
The class is running several times a day for the next three days so you are sure to find a time that suits you.
You can see all the details here >>
Let's not wait for a healthcare crisis to jump on this bandwagon. Get trained now. Let's begin. At least you'll walk away with 4 Energy Medicine tools you can start using today.
Save
Save
Save