Do you have difficulty finding time to meditate? I know I do. Find some helpful tips and ideas on setting up an area in your home for meditation and squeezing it in to your busy schedule.
Right now I am averaging 1-2 sessions per week. Not great, but they are helpful. I have read a few articles that mention the fact that meditation is something that the more regularly you do it, the more useful it becomes and the greater benefit you can derive from it.
Finding the time to develop a regular meditation practice can be difficult, especially if you are not used to having it as part of your daily routine. Between work, children, and preparing food, it can become a challenge to find 30-60 minutes during the day just for yourself.
Part of the problem also stems from being a bit embarrassed, especially when it comes to a spouse, mate, or other family member, who may not understand the benefits of meditation or just give you a hard time and tell you it is just woo-woo stuff and you shouldn't be bothered with it.
Benefits of Meditation
Benefits of meditation for me so far have included increased clarity and positive knowing. After a session, I am refreshed and clear on what I need to do next with my writing or setting goals.
Meditating also helps me to connect to my spirit guides and higher self. By having regular conversations with your guides, you will be able to discern more easily between general thoughts and the wisdom your guides want to pass on to you.
Tips and Ideas For Finding Time To Meditate
Here a few ideas I have to begin a more frequent schedule of meditating. By finding what works for you, it can begin to develop into a regular habit.
Try it when the children are napping, or after they have gone to bed.
Skip the television for 30-60 minutes and go up to your bedroom or spare bedroom so you can have some quiet time.
Begin training the rest of the family that this is "your time" and that you can't be disturbed.
Try to find a quiet spot in your home to set up a chair or yoga mat. The space does not have to be very large. It would be even better if you have a spot to make a small altar with some of your favorite items on it.  A small shelf will do or a small side table that would be within view when you meditate. Stock it with things that have meaning to you. Use stones or crystals, a favorite memento from a loved one, or a visualization board.
Don't underestimate the use of a recliner,  couch, or a bed for a guided meditation. Wherever you are comfortable is a good place to meditate. For some, this can become too comfortable, as you don't actually want to fall asleep, just get into a relaxed state.  That is why many prefer a mat or upright chair instead.
Your Special Meditation Gift
Imagine if meditation was easy.
Imagine if you didn't have to battle with a busy mind, and a restless body. Imagine if it took just a few minutes a day.
And imagine if it brought instant results — LESS STRESS, more happiness, greater focus, improved creativity — immediately.
Well — stop imagining 🙂
You see, today, I want to introduce you to an awesome audio meditation program, called Zen12.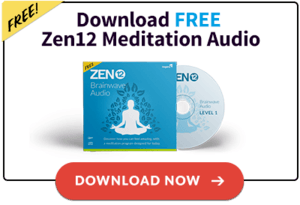 Zen12 gives you a full hour's worth of deep meditation, all in just 12 minutes. It uses "brainwave sounds" to speed up the process, and it's genuinely unlike anything you've experienced before.
Personally, I love this audio. You just listen, and you experience the results. It's meditation for the modern world.
It doesn't cost a penny, and I promise you'll be amazed at the results.
(PS. If you want to try out the full program, risk-free, use the code VZ54YTD6 during checkout. That'll give you $50 off any package you order.)
Save
Save