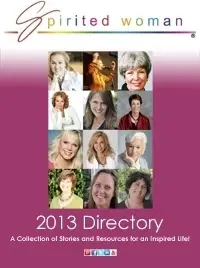 The 2013 Spirited Woman Directory – Celebration is now live! Please join me in celebrating and enjoy this gift! It is a union of highly conscious women that are each changing the world in their own way.
I am so excited and honored to be a part of this invitation-only directory and to be able to share it with all of you! As someone who was part of this directory last year, when Nancy Mills, founder of The Spirited Woman™, asked me to be in the directory again, I jumped at the chance.
Last year I had just a small listing and this year I felt I was ready to be seen in a bigger way. I am one of the featured profiles in the directory for 2013 and am honored to be part of this amazing group of women. I am on page 80 and page 118.
If you are connected with my page on Facebook, Pinterest, or Twitter, you may have seen me posting and sharing some brightly colored inspirational phrases recently within the past 12 days. Some of them were about believing in yourself, reclaiming your power, and creativity. The images were inspirational and motivational, just like those within the directory.
These past twelve days have led us to now being able to share the directory with everyone. It is the culmination of honoring all of the pieces that make each of us whole. The directory brings us all together and shines brightly representing everyone listed inside.
Enjoy the 2013 Spirited Woman Directory!!!
Please take a look and read through the inspirational stories of those featured. It is a blending of diverse backgrounds and experiences. The stories shared are truly beautiful. Feel free to share the directory with your friends. It is meant to be shared and reach as many as possible. The directory is 143 pages that include over 75 Spirited Women from all around the world. I have a two-page feature article on page 80 and am also listed on page 118, if you want to check out my listing. If you cannot view the directory below, click here to view it as a web page.