Many of you have asked me how to raise your vibrational state when life hands you a bunch of lemons or you just need a quick pick me up.
For me, I love music as a way to come back into harmony and balance. But there is a difference in the quality of music.
How To Raise Your Vibrational State
All music has its' benefits, but in order to actually raise your vibrational state, not all music fits the bill. Some of my favorite songs from my teenage years do not actually raise my vibrational state. You have to ask yourself how you feel after listening to a particular song.
Enter "Happy" by Pharrell Williams. This song was part of the song track from the movie "Despicable Me 2" (which is an awesome movie for all ages) and has been getting quite a bit of viral internet attention recently. Okay, I absolutely LOVE this video.
If you need or want to raise your vibrational state quickly, then definitely watch this video. I totally find myself dancing in my chair. Really, tell me if this doesn't raise your vibrational state and make you feel better almost instantly.
You know how some songs get stuck in your head and you can't get rid of them? This is one of them, but I know you won't be disappointed with this one. This has been going through my head for the last two days.
Start each day with this and see how your vibrational state changes. Seriously, listen to this every morning and last thing before bed and let me know in the comments the positive changes you have experienced. Still don't feel better? Listen to it 6 or more times in a row, maybe more. You can get more HAPPY at 24HoursofHappy.com – The world's first 24 hour music video.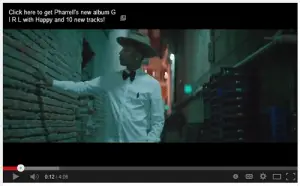 Here is the link to the YouTube Official Video: https://www.youtube.com/watch?v=y6Sxv-sUYtM