17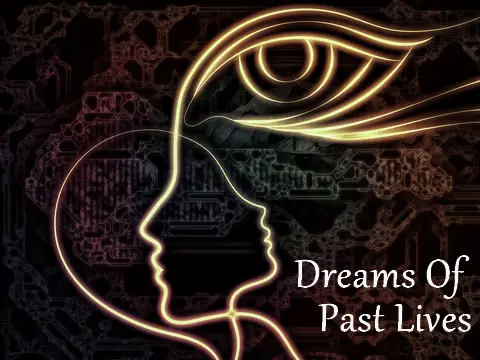 Dreams of Past Lives
Have you ever had dreams of past lives? Karmic dreams can indicate who you were in a past life and can also give you insight to why certain aptitudes come easily to you or why you have unexplained innate fears of people, places, or things.
Past Life Dreams
A past life dream is a specific type of Karmic dream that you may have many times during your life and the dream doesn't change. It differs from the typical dreams of falling or being chased. This is an awesome page on the different types of past life dreams. I highly recommend reading the descriptions.
It is one that may occur in a period setting, like the civil war era where you take on a character in the dream, dressed in period clothing and such. You may even speak a different language. In my experience, event sequences that take place do not change, and the dream plays itself out the same each time. By delving deeper into the meaning of these types of dreams, you can begin to help yourself realize why you may have unexplained fears, beliefs, and behaviors.
My Dreams Of Past Lives Lived
Okay, here goes. Here I am telling everyone that is reading this blog about what I think are some of my dreams of past lives. I have not shared this stuff with anyone, not even my husband. Since I run this blog, I don't have the luxury of complete anonymity. So if you think I am a bit on the crazy side, so be it!
Civil War Era
My dream is that of being a seamstress and tailor while also owning a general store that sold fabric among other things. I was wearing a long dress with a gathered skirt that tied in the back. The dress was thin cotton with a small floral print and seemed quite faded. I know I put in long hours sewing garments, but did enjoy the work. A man walked in to the store late one afternoon and demanded I repair his uniform.
I did not like him at all. He threatened harm to me and my children and I knew from the look in his eyes that he meant it. I worked through the night and into the following morning out of fear that I wouldn't get the repairs done soon enough. It seems I was able to complete the job and he went away without incident. No sleep that night!
Fast forward to current life:  I learned how to sew when I was about eight years old. It was something that came naturally to me, even then. I made many of my own clothes through school, went to college for a related major, and even designed and sewed my wedding dress and 3 bridesmaids dresses.
These days I prefer quilting instead, even though I haven't done it for a few years. I own multiple sewing machines and have a dedicated room in the house. The one thing I do not do though, is sew items for other people anymore.
Off With Her Head!
Did you ever dislike someone instantly but have no clue why? Perhaps someone betrayed you in a past life.
This past life dream is a bit more traumatic to me. My only recollection of the event is being publicly on display on a platform near a tree and being "trialed" for being a witch. I seem to remember my husband of the time standing in the crowd and thinking how could have he betrayed me and turned against me by believing the lies being told. I frantically tried to reason with someone, a lady of the church that we both belonged and we had been friends, but she screamed loudly, "She's a Witch!" Then everything went black as the noose tightened and I was left to hang.
Today, if I wear any type blouse or shirt with a high collar or snug fitting neckline, I get the feeling of being strangled, as though there is a noose around my neck. I find myself pulling on it and stretching the neckline out constantly. I am always glad to take it off and usually do not ever wear that item again. I also cannot wear shorter length necklaces that are tight to the neck.
Does Whistling Drive You Crazy???
Whistling is right up there with nails on a chalkboard to me. It just drives me up a wall. I had a past life dream where I was being held prisoner and was looking out a window with bars on it and the guard kept walking by very slowly and tauntingly whistling. I must have been in that jail for some time for it to bother me this much how many lifetimes later.
These are just a few of the past life recollections that I have. I will write about some more in a future post.
If you feel like you keep reliving past life issues and dramas, check out my other article:  Healing Past Lives Through The Akashic Records.
More Past Life Resources
Here are a few websites I have come across with more information on dreams of past lives:
Your Turn
Okay, I have put myself out there a bit with this post. Please don't make me feel totally alone. I would really love to hear your stories and dreams of past lives. Would you please share in the comments? Thank you!
Work With Me
If what I have written makes sense to you, then I invite you to consider working together with me. A Sacred Soul Blueprint Written Reading is a great place to start.
If your are not ready to do that, I encourage you to listen to some of my podcasts or read more about me. Oh, yes… I also make quilts too.