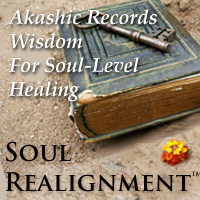 A review of the Soul Realignment® Akashic records training professional course offered by Andrrea Hess. Read my thoughts on this intuitive training and see if it is right for you. Find out how you can improve your intuitive abilities by accessing the Akashic records.
Soul Realignment® is a professional level intuitive training course offered by Andrrea Hess. It is offered via home-study through a series of videos and audio downloads so you can learn at the pace that is right for you. Because of the nature of the course, you can be very new to intuitive readings and still be able to fully learn and understand the concepts and do the work.
Who Should Take This Course?
Consider taking this course if you have decided to develop your intuitive abilities and want a way to learn in an easy to digest step by step manner.
If you are already a professional intuitive, but have not studied Soul Realignment®, this course will offer you another perspective and broaden your abilities to a level that you can really trust the intuitive information you are receiving because your are accessing it from the Akashic Records.
What is the Course About?
This course helps to accurately look at who a person is at soul level. You can gain a deeper understanding of why people have certain inborn traits and patterns and why they inherently like certain things. You will learn to complete a soul profile for your client and with that, help them to understand why certain traits are naturally a part of who they are.
You can then offer your clients the reasons behind what is holding them back and if the situation occurred in a past or present life. This helps the client be able to take conscious responsibility around what occurred in the past and allows them to make new decisions. Sign up to watch Andrrea's free Akashic Records webinar by clicking here.
What is Included in the Course?
You first complete an application to be accepted into this course. After you are accepted, you will have access to a private members area.
10 Step-By-Step Lessons– The Videos and audios include over 20 hours of information on energy centers of training, soul groups, how to conduct a professional reading and so much more. You can listen and learn from anywhere or any country via video or audio. The audio files are downloadable so you can listen to them on your mobile devices. You also receive an attunement to be able to access the Akashic records, along with detailed instructions for accessing the records on behalf of clients. You receive printed notes from each of the lessons and a bonus section on dowsing basics. This training also includes a section on how to do property readings and a 192-page reference book shipped to your home.
Bi-Monthly Support Calls – For me, the best part is access to the bi-monthly calls that you are able to to be a part of once you register for the course. Twice a month Andrrea hosts practitioner calls where you can ask your questions or if you can't make the live call, you can write in your question ahead of time and she will answer it for you on the call.
Forum Access – Another bonus is the practitioner forums. You can ask your questions to other practitioners or to Andrrea there as well, along with being able to read any other questions and answers that others have had.
Session Reading Sheets And Client Clearing Homework
Practitioner Certification – If you wish to become a certified practitioner, there are certain requirements that you must complete including a series of practice readings. Andrrea Hess will check over your work personally before granting certification. If you are certified, you are able to be listed in her online practitioner directory.
The Best Part…
One of the things that sets this psychic development course apart from others is the clearing homework you are able to offer to your clients. This is homework that you customize for each client to assist them in consciously integrating new energy patterns into their physical bodies.
You learn to do clearing homework on behalf of the client, and then have the client consciously participate in their own healing and clearing. The energetic clearing work is one of the most powerful parts of the course.
My Personal Experience
I was drawn to have a Soul Realignment® reading done from another practitioner in mid 2008. I began studying Soul Realignment Level I in 2010 and went on to take Level II and Level III in 2011. There are also additional advanced trainings available. Level One in itself is very powerful and the second and third levels keep building on that. You are able to offer many different types of readings to your clients, from the basic reading to life situation, relationship, spirit guide, and property readings.
Andrrea is wonderful to work with and will assist you in what ever you need to succeed.
The information you learn in this course is timeless. Six years later I still use what I learned each time I give a reading for a client.
How Long To Complete This Akashic Records Training And Certification?
If you are motivated and able to spend 4-5 hours per week on this course, you could be ready to become certified at around the 3-4 month mark. Now, not everyone will complete the course in that time frame as daily life sometimes does get in the way. You can complete this course on your timeline, even if it is a year or two later. You work at your own pace. The materials will be there for you in the members area indefinitely.
Professional Readings
Some of you reading this review might only want to be able to do readings for yourself or family. You might also wonder if you are ready to step into professional intuitive healing work. If you choose to do professional work by the end of this course you will be able to offer professional level readings to paying clients.
Get To Know Andrrea And Experience Soul Realignment® for Yourself  – Free Webinar

Sometimes when you are contemplating whether or not to sign up for a course it helps to hear and see someone before deciding. So, I want to extend this invitation to you so you can be completely comfortable with joining the program. I know you will gain a lot of "aha" moments from this free webinar.
In theory, you already know that you're the powerful Creator of your own experience … right? So why is it that some things seem SO HARD to manifest?  Why is it that all of our efforts create absolutely no results sometimes?
It's enough to make us wonder whether the Law of Attraction might occasionally be glitchy, right? That's why I wanted to send you this terrific FREE resource.
It's a webinar from Andrrea Hess called "Akashic Records: Manifesting Demystified" and whether you've ever heard of the Akashic Records or not, this webinar will explain manifesting in a completely new, grounded and practical way that will explain why you may have been experiencing struggles.
You can sign up here:  Akashic Records:  Manifesting Demystified Free Webinar
You'll even receive a replay if you can't make it to the "live" event.
I hope you enjoy!