Attn: Energy Healers, Intuitives, Psychics, Artists, Life Coaches, Spiritual Entrepreneurs, and Soul Purpose Seekers…
Are You Ready To Claim Your Soul Purpose
And Start DOING Your Purposeful Work?
Dear friends,
– Are you ready to reclaim your personal power and step into your purposeful work?
– Do you want full control over how your life turns out?
– Would you love to start creating an aligned purposeful spiritual business so you can serve others?
If you found yourself nodding YES to those questions, then know you are on the right path. Embracing your life purpose and understanding who you really are at soul level is one of the most empowering things you can do for yourself. It is the KEY to unlocking your personal divine gifts.
Where do you want to be in 5 or 10 years?
If you are like I was you are looking for…
A way to finally do exactly what you really want to do, and to do it your way.
More flexibility and choice in how you spend your time so you can finally achieve harmony and balance.
Security in knowing that money will always be there for you.
A way to share your gifts and knowledge with others and make a decent income doing that.
A way to earn a living congruent to your beliefs while staying in integrity with your values.
This list might just seem like a pipe dream to you, but I want you to know it is possible to have exactly what you want.
You have it within you to recreate your life in any way you can imagine. You are stronger than you think and I want you to know it is possible to have it all. You need to create a life for yourself that allows you full freedom of expression, inspires you, and fills your cup.
Now is the time to fully claim your personal power and start stepping into your purposeful work.
You Are Worthy of Joy and Happiness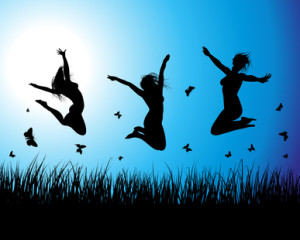 You DO deserve to have a life exactly as you see fit. Your desire to expand your belief system and grow spiritually indicates you are ready to have the joy and happiness you want.
And I want you to know you are totally capable of having exactly what you want.
You might be reading this right now and think it all sounds good on paper…but secretly fear it will never materialize for you.
Right now you might be feeling incredibly frustrated that what you truly want hasn't materialized yet.
You might have reached a breaking point where you know something has to change.
Does this sound like your current situation?
You find yourself staying in an unfulfilling job because you feel you have no other choice.
Exhausted because all your energy is going toward growing someone else's business.
No extra time to put toward your true passion.
A feeling that no one would ever pay you for what you really want to do.
Overwhelmed because of all the work needed to create a business from scratch.
Boy, have I been there! I remember sitting in my office 3 years ago and my mind was completely numb. I realized that if I didn't DO something different, I would be seeing the same paperwork in front of me for the next 20 years.
I just knew there was more to my life…
You know, there was a time when I felt like everything I had known and done so far in my life wasn't the real me. I went into a long period of soul searching. I just knew there was more to my life than what I had experienced so far. But you know what…I waited…and waited…I kept thinking that I couldn't possibly live my dreams. I kept trying to believe that everything wasn't so bad after all. I allowed myself to believe nothing could possibly make that much of a difference in my life. Boy, was I wrong!
I took a leap of faith and booked an Akashic record reading. It was the beginning of a shift in my energy and my thinking that allowed me to begin moving toward my purposeful work. It assisted me in clearing so many of the patterns and beliefs that kept me from moving forward. It helped so much that I now understood it was part of my own soul purpose to bring that healing to others. It was the beginning of doing my purpose.
How I Went from Employee to Entrepreneur…
That reading was just the beginning. With so many of the energetic blockages out of the way, I went about building a website, wrote blog articles, and started putting together the pieces of my business. I did all of this while I was still employed full-time with a young child. It was also the beginning of coming out of the psychic closet. In June of 2011, after 2 years of steadily building my business part-time, I finally gave my notice and left my day job for good. I have been self-employed for 3 years now and love every minute of it. I am sharing all of this with you because I want you to know what is possible. It is totally possible for you to have exactly what you want.
The True Cost of Waiting…
But if you were like me, getting started is the hard part. We procrastinate, we think we can do it on our own and we buy into societal thinking that things have to be a certain way. We buy into blame, shame, and guilt and it ends up keeping us from even getting started. What this costs you is years of your life being unhappy and unfulfilled. All this leads to anger, resentment, and self-criticism. It can even turn into health issues down the road. Right now, you may even feel as though you have missed your window of opportunity to begin doing your purposeful work. You haven't. Trust me.
What will your life look like in 5 years or 10 years?
Will it look exactly the same as today? Is that what you want? If not, the time is NOW to start taking the action steps to get you where you want to be. How do you begin closing the gap between what you want and your current reality? For a few of you that could look like self-employment. But for a lot of you that might not be in the cards just yet. Sometimes we've gotten so far away from who we are at soul level through, and we have created a life as it is right now, that it can take time to get ourselves to a place where we can become self-employed. So in real life what that looks like is a new beginning for you, the beginning of transitioning into your soul level work. This could mean doing spiritual work professionally or it could mean finding a new career or a bridge job more suited to how you operate.
It takes time to get a purposeful business up and running. You need to get started NOW if you want to see your dreams become a reality. You know, you don't need to figure everything out today. All you really need is just that one next step; otherwise we get overwhelmed and end up not doing anything. Sometimes all you need to do is speak your truth and be clear about what you really want and you be surprised on how fast change can happen. Are you ready to embrace that?
Here's what I know is Possible for You
I want you to know it is possible to live the life you dream of. You have amazing intuitive and healing gifts waiting in the wings ready to be shared with the world. You know, sometimes we need objective, outside guidance at certain periods in our life to make a transition into something new. I can provide that support for you as someone who has traveled that path. Sometimes we just can't learn everything from a book or an online program. We need someone to talk to one to one that can see our true potential and believes in us. When you begin to take those first unsteady steps to creating your ideal purposeful vision, it can be reassuring to have someone there guiding you. I can provide that support for you.


"Our first soul purpose clarity session was TREMENDOUSLY helpful, and I now have a very clear intention, affirmations, creation and commitment pact as regards my path to my next occupation! I am also feeling energies releasing and flowing in a lot of other areas of my life, a little overwhelming to be honest, but my connections to my guides, my higher self, my intuition and other spirit helpers have become much more apparent to me."

Thanks again!
Tara B.

How Would Your Life Change
If You Were Doing Purposeful Work You Love?
Are You Finally Ready To Experience New Results In Your Life?

Embrace your soul level gifts and understand how to use them.


Become joyful doing purposeful work that is aligned with who you are at soul level.


Enjoy living your life purpose and get paid well for your gifts.

Transition to a career you love and perfectly aligns with your soul purpose.


Clear energetic misalignments that stop you from doing what you were truly meant to do.
Are you finally ready to say YES to Yourself? You know, this can be one of the hardest things we do. Saying yes to yourself is something we don't allow ourselves to do that often. We think it is a luxury. It isn't a luxury; it is a necessity if we are to live a joyful life. This is your time to begin putting together those missing pieces with what you already intuitively know and feel. You can have that understanding of why some things work so well for you and other things don't.
One of the best ways to bring your Divine vision out into the world is to understand how you operate from a Soul Level perspective. Your energy center of training speaks volumes about how you show up and operate within this world. By knowing your energy center of training and a few other key pieces, you can align with your purpose and gain that clarity about what you need to do next. Your energy center of training also greatly affects HOW you build your spiritual  business and what type of employment you are most suited for.
So, this is your chance to FINALLY have full control over how your life turns out. Are you going to leave that to someone else or take back your personal divine power? You are a beautiful divine being that CAN make a difference in the lives of others and forging your OWN path is how you can showcase your Soul Level Talents and Gifts.
Are You Ready To Take New Aligned Action On Your Dreams And Ideas?
If the answer is "YES", then you will want to take advantage of my
Quit Your Day Job And DO Your Purpose Package
This package includes a 60-minute Akashic record reading and clearing phone session with me PLUS 2-60 minute coaching and mentoring Sessions. That's 3 hours personal 1:1 time on the phone together!
I put together this package because when you are thinking about making some type of change in your life that will affect your family, it can be necessary to get some outside, objective support.  One of the things that keeps us stuck in a job or situation we dislike is fear of the unknown. So, that is why the additional sessions are so important. We will talk through different scenarios so you have a clear picture of how it will all look in the end.

Session #1 –
KNOW and Understand Your Purpose
The first session is all about KNOWING YOUR PURPOSE. In our first session, we are going to do a full Akashic record reading where I find out your Energy Center of training, your soul group of origination, your soul specializations, and also check for any missing soul facets. We will get on the phone or Skype and talk about your primary and secondary energy centers of training, your soul group of origination, soul specializations and alignments to the 5 Divine energy streams of Divine Love, Light, Truth, Abundance and Power. These four pieces alone are going to go a long way in knowing your internal soul level operating system.
What this does is assist in discovering who you really are at soul level and identifying your core strengths.

Identify your Divine Gifts and uncover your Primary and Secondary Energy Centers of training. (Knowing just this one piece is KEY to how you operate .)

Uncover any past or present life energetic misalignments within your Akashic Record that are keeping you from moving forward and taking action with your new goals.

Includes Energy Clearing work as part of this session to clear any misalignments and realign your energy body to be 100% in alignment with Divine Love, Light, and Truth, Abundance, and Power.
***Have you already had an Akashic reading from me or another Soul Realignment™ practitioner and know your energy center of training? Great! You can still take advantage of this offer. We will do a more in-depth higher level reading around current life situations for you.

Session #2 –

ALIGN With Your Purpose



During our second session together we will talk about ALIGNING to Your Purpose. We will go deeper into exactly what you want to create next for yourself. Whether you have ideas about doing spiritual work at a professional level or want insight about what a new soul aligned career would look like, we will break it down and start looking at the pros and cons of what making a life change would look like for you. You get to consciously create your future!

     Clarify your life purpose and Consciously Create the next chapter of your life.

     Understand if what you used to know you were meant to do is still your life purpose.

     Unearth your Personal WHY. This is critical to know so you can stay on track, accomplish your goals and become UNSTOPPABLE!

Session #3 –

DO Your Purpose
During our third session together we are going to talk about actually DOING YOUR PURPOSE. We are going to start putting all of the pieces together for you. We will talk about where you are now and where you want to go next. We will come up with a plan of action for you to and then we will talk about real life action steps, aligned to your energy center of training and your soul group of origination to start turning your dreams into something real.

     Know if you need to get a "bridge job" to pay the bills while building your dream business.

     Take a look at if what you are doing right now is "the responsible thing" or actually aligned to your soul purpose – and talk about what changes need to happen.

     Put together an action plan and set time frames for what you want to accomplish.

So, by the end of our three phone sessions together, you are going to have:

      A clear working knowledge of how you operate at soul level.

      An understanding of the underlying energies behind certain situations, patterns, and beliefs and why they show up for you.

      The necessary energy clearing work so you can move forward with confidence.

      A plan of action aligned to your energy center of training to start turning your dreams into something real.

     Clarity on Your Personal WHY and the Divine Gifts you bring to the world.

     Confidence in your Abilities so you can overcome doubt about doing spiritual work.

     Personal 1:1 support to get your life purpose questions answered.
What all of this gives you is confidence, understanding, energy clearing and full support so you can KNOW, UNDERSTAND, ALIGN, and start DOING your Purposeful Work.
Are you going to wait like I did? Please don't! What I realized is that if I had gotten help sooner (and listened to my inner guidance), I could have shaved years off the transition to living my life purpose. Ask yourself why are you waiting? The true answer to that question goes much deeper than money. It's okay, I have been there and I can help you through the resistance as it shows up for you. You will be fully supported.



"First, I was very angry with my father for a long time because I felt he betrayed me with his second and third marriages, and I felt like he pressured me too much to achieve and succeed. I struggled with this anger but I could not find a way to heal it by myself. Now, after my reading with you, I find the anger is just gone. It's truly incredible, I tried for years to forgive my father, and now anger is no longer a dominant feeling or issue in my life. I'm free, thanks to you. Also, you were completely on point with me having a negative astral guide that gave me negative dreams. It had been a long time since I actually remembered all my dreams. Since our conversation, I now have a positive astral guide, and I have remembered every single one of my dreams. It's been incredible, and I am really grateful for all of the results that have come from my reading. It was truly a life changer for me."
Thank you.
Anna

Know Your Purpose
Special Webinar Package

      A comprehensive 60-Minute Akashic Record Reading and Clearing via Phone or Skype (valued at $497.00)

     Two additional 60-Minute Life Purpose coaching and Mentoring Session (valued at $700.00)

     1:1 personal support to get your specific life purpose questions answered

      Energetic clearing of misalignments found in your Akashic Record

      Clearing prayer work customized just for you

     All sessions recorded and sent to you in .mp3 format
An $1,197 Value

Offer Expires Soon – In Just Seven Days

Order Now
Option #1
Single Payment of:
$497
Or
Option #2
2 Payments of:
$277
What Happens Next?
Once you purchase a reading, I will respond within 24 hours confirming your order and send you information on how to set up an appointment time via an online appointment calendar.
Within that email I will request birth information from you including present name and birth name, date of birth, time of birth and place of birth plus an optional photo. This information is necessary in order for me to access your Akashic Record. I will also give you the opportunity to write about exactly what you want from this reading and any other current life issues for you. If you do not receive an email, please contact me.
Privacy Policy
I take your privacy very seriously and never share your personal or financial information, or the content within your reading with anyone. I keep all of your information strictly confidential.
Refund Policy
Due to the nature of this work and personal time investment of conducting these readings and coaching sessions, there are no refunds offered. You may reschedule if necessary.
All 3 sessions need to be be booked within 6 months from date of purchase or they will be forfeited.

My Personal Commitment to You: During our sessions together, I will honor your highest vision and provide you with the support and honest feedback needed for you to be able to take action on your goals.
Testimonials

"You showed up for me exactly when I needed you.  Good positive healing energy and a great laugh;  more like a chuckle and it is very warm.  Another crucial part of the puzzle that is me and you were there to help me find and place another important piece.  So thank you from my heart for doing what you are doing and helping others find their true path!  You were instrumental in helping me.  Namaste, I bow before you in respect and gratitude.  My new word, Namaste, "  The Spirit within me salutes the Spirit within you ". Thank You."
With love and respect,
Pauline W.


"I just read the reading, I cried. I have been recently using the word "hon" and in the past, I also know that I have a former dog still with me, i think it is my Rottweiler as I have seen him in dreams. I have recently found the Indigo web sites and within the last month and knew that I am one. I told you NOTHING ABOUT ME and you are correct.
I have even almost started a pet sitting business 2 years ago! As of this moment I am unemployed and just yesterday I did a root and 2nd chakra meditation! I am blown away by your insights.
You are amazing and your training is going great! I have done hands on healing for pets in the past for personal use too. Thank you from the bottom of my heart as all of what you saw is correct, I wont even go on. Much Universal Love to you. I have been asking my guides to show me in real world ways what i should do and have been seeing the numbers (1111,222,333,444, etc.). But the "hon" blew my mind! Thank you, thank you, thank you."
Marsha T.


"I cried during my Akashic Records Reading session. It moved me so, knowing intuitively she was revealing ME to me. The information she shared from my Akashic Records was so powerful and uplifting . . . to Know, finally, the answer to some of my big life 'Whys?'!
The knowledge deeply resonates and I am forever changed by what was revealed to me during this session. I will always feel warmth for this precious Light Worker – thank you for progressing me along my Soul's Journey!"
Jo Betty I.