37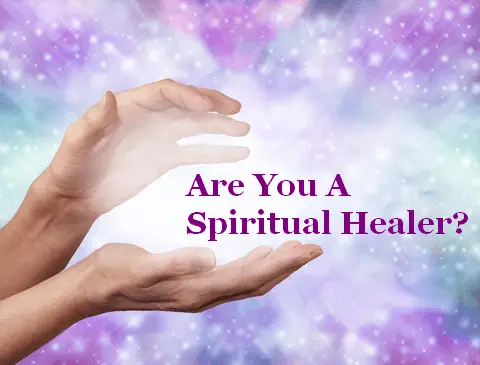 Are You A Healer?
Are you a spiritual healer that has yet to identify your unique gifts to the world? Have you been reluctant to embrace your energetic healing gifts? If you are reading this, you are more than likely a healer.
Many of us are a bit reluctant to come out of the closet, though and need to learn to heal ourselves first before becoming useful as a healer for others.
You may wish to read my prior post about taking time for healing yourself.
Is Everyone a Healer?
What makes someone a healer? To a certain degree, everyone is born with the capacity to heal others. A spiritual healer is someone who has a better ability than most to sense emotions in others and make sense of what their needs are at a particular point in time.
People come to you for help because you have that heightened healing ability. You are able to help others connect with what they have forgotten. It is almost like you have an energetic mark on your forehead that others can see, but you cannot. It is what draws people to you to tell you of their problems seemingly out of the blue.
Everyone brings their own set of gifts to the world and shares what they can. Everyone has some healing ability, but there are those of us who have strong enough gifts to actively use it in our own lives and use those gifts to help others.
It really doesn't matter which healing modality you choose to pursue, whether its Reiki, intuitive readings, massage, or any of the other types of energetic healing techniques.
Why are you afraid to step out into your own divine goodness? Do not be afraid to use your gifts. You have them for a reason and please consider them a blessing. They are part of what makes your soul sing and should be recognized as such.
Traits Of A Spiritual Healer
Do you recognize yourself with any or all of these traits? Do you have any to add? Leave a comment below.
Highly sensitive to energy around them. Your energy may cause light bulbs to burn out frequently or cause street lights to flicker.
Highly empathic and easily able to sense the emotions of others.
May consider themselves an Indigo Child or Adult.
People may take an instant dislike to you, as they are rejecting your healing energy.
Can you walk into a room and immediately sense the mood?
Certain drugs may be ineffective or have an odd reaction.
Do children and animals gravitate toward you?
Do you feel like you pick up everyone else's emotions and have difficulty discerning them from your own?
Healing Yourself First
Many people who are natural healers have had their own sets of harsher than normal challenges in their life and need to take the time and effort to heal themselves first before they can begin to successfully help others heal in a positive way.
If you have had more than your "fair share" of upsets in your life, healing your thoughts and emotions first is a good place to start. Remember…"physician heal thyself".
Make healing yourself a priority first. Eat a clean diet, clean up or at least diminish unhealthy habits and keep your life in balance.
Can your body, even your blood, vibrate with love?
Love is the secret to healing and it has a higher vibration. As you know, human beings are a spiritual entity that is having a physical experience. That means, you have an inner energy (spiritual) and your body (physical) is a reflection of your inner energy.
When we are having a disconnect with our inner energy or if our inner energy is disturbed, the physical part of it, the body, starts reflecting what's underneath it. That's where illnesses start. So by connecting with and raising your inner energy to the level of love, you can heal yourself effortlessly. You just need to know how to connect with your energy and turn it around and that's what Christie Marie Sheldon is teaching in her Energetic Breakthrough Kit.
She is sharing with you her simple techniques to raise your energy vibrations, that have already helped over 30,000 people lead a healthy, peaceful and stress-free life:  >>> Download your Energetic Breakthrough Kit here (yes, it's FREE)
Discover 12 powerful energy tools you can apply instantly to raise your vibration and clear your manifesting blockages — allowing you to finally accept everything the universe sends you… from Love to Abundance.
Free Numerology Reading
Do you want to know what your personal numbers are and what they mean in your life? Find out what makes you tick. Reveal your true nature and character and use it to change your life. Get a free numerology reading from a master numerologist by clicking here.
Intuitive Healing Through The Akashic Records
Are you finally ready to heal yourself, your past, and begin your life's work as a healer? Book an Akashic Record reading today.