31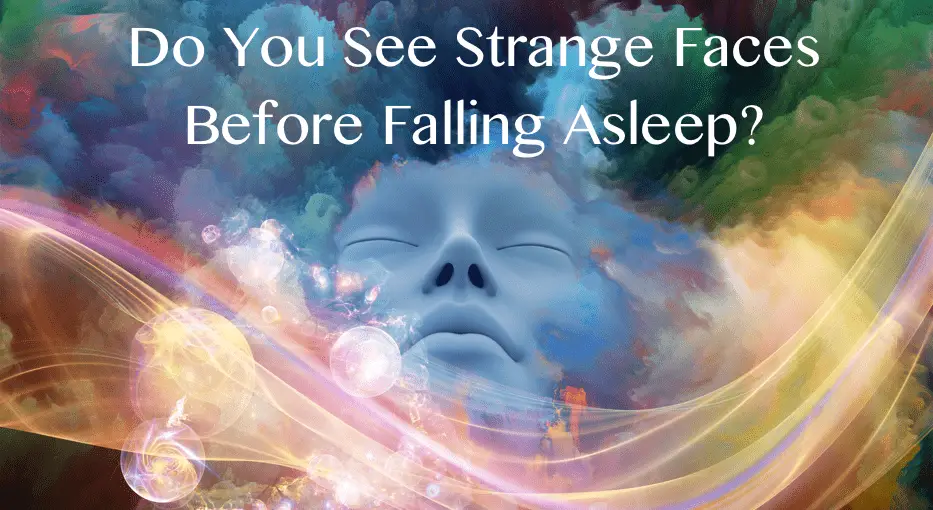 Seeing Strange Faces Before Falling Asleep
Are you seeing strange faces before falling asleep? Rather like a psychic slide show of faces, yet you don't actually know any of the people?
For those of you who have had this experience, I recommend keeping an intuitive journal of your experiences.
My Experience
Before going to sleep on more than a few occasions I have seen the faces of strangers, one after another. It is at a point where I am not fully asleep yet, but just drifting off. It is almost like a full color slide show of people whom I do not know. Each face is very clear for a moment or so, but gone in a few seconds and replaced with another face. The background is dark and I only see the faces. They are shown in full color and look like a photograph. I do not feel fearful of them, only curious really. Most of them are faces of women, only a few men.
It may make you feel like you are going a bit crazy!
Who are they and what am I supposed to know or learn from them?
It seems to happen when I have gone to bed a few minutes earlier than normal and have done a few deep breathing exercises to connect myself to my dream guide. Before I am fully in that state, but quite relaxed is when I begin to see the slide show of faces.
I have read that it may be spirits visiting me. My own thought was that it was potential people that I may be coming in contact with soon, perhaps those that were interested in getting a reading from me.
It seems these faces are definitely reflections of our own inner workings and thoughts, much like a mirror. It seems that this phenomena offers a small glimpse into the full future potential of our working mind and connecting to other aspects of yourself, maybe even in an alternate reality.
They could be family lineage, images picked up from the Akashic records, or perhaps even someone else's thought patterns, or a precursor to astral travel.
In my research on this subject, I ran across an alternative explanation, that in which the faces represent the greater whole, that we are all connected to each other via time and space and we are all connected by the same source, seeing various aspects of the human experience.
More Resources on Seeing Strange Faces Before Falling Asleep
Free Numerology Reading
Do you want to know what your personal numbers are and what they mean in your life? Find out what makes you tick. Reveal your true nature and character and use it to change your life. Get a free numerology reading from a master numerologist by clicking here.
Astral Dynamics
Robert Bruce's book, Astral Dynamics: The Complete Book of Out-of-Body Experiences
has been recommended more than a few times, saying it goes in depth on this phenomena on seeing strange faces before sleep.
I haven't read it yet, but put it on my wish list for future reading. Check it out if you like.