Resources For Spiritual And Personal Development
The most successful people in the world never stop learning. They gather new resources, thoughts, and ideas to give them an edge in life. Taking the time to develop your spirituality is as important as diet and physical exercise.
On this page I have put together a few of my favorite resources for spiritual and personal development. No matter what stage of your spiritual journey you find yourself in, I think you will find something here for you.
Most of them have a free masterclass or meditation for you to try out and I encourage you to take advantage of the free offers. I always figure if I can come away with even one "aha" moment from a free class it was worth the investment of my time.
These are professional quality reputable programs with some fairly big names in the personal and spiritual development fields. Go ahead and sign up for a few that interest you and see if you like what you hear. Expand your knowledge and get the edge on mastering your life.
Resources
THIS is why your abundance is blocked
Everything is connected. That's why, when one area of your life is unbalanced – say, stress from working long hours trying to get ahead – everything else seems so much harder.
This is especially true when it comes to abundance. When you're constantly worried about paying the bills or going to a job you hate every day, everything else gets put on the back burner.
Suddenly, you have no room to develop or grow. That's what is called an 'Abundance Block'.
They can be tricky to uncover on your own, which is why I'm so excited to introduce Mindvalley's free 'Unblock Your Abundance' Masterclass featuring the incredible Christie Marie Sheldon.
And you're cordially invited >>
If you haven't heard of Christie before, she's a remarkable woman with a special gift… The ability to connect with other people so that they start to magnetically attract success and abundance on autopilot.
Not only will you get to learn what Christie's methods are all about, but you'll also get to experience a 20-minute Energy Clearing session guided by Christie that will permanently erase one of the biggest 'Abundance Blocks' affecting most people today.
You can learn more about Energy Clearing here >>
The Life Changing Power Of Energy Medicine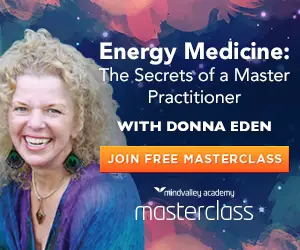 There's a new masterclass running this week at Mindvalley Academy called Energy Medicine: The Secrets Of A Master Practitioner by legendary healer Donna Eden.
And it's about how you can take back control of your health and wellness by learning to work with energy. This is life-changing material.
You can use Energy Medicine to…
==> Lessen aches, pains, illness, and disease
==> Create deeper happiness, satisfaction, and contentment
==> Increase focus, clarity, and productivity
==> Renew balance, harmony, and well-being
==> Improve overall health and longevity
And all it takes is a few simple non-invasive hand gestures! You'll see what I mean when you join this new Masterclass at Mindvalley Academy.
Click here to register for FREE >>
Here's what you'll learn in this 60-minute class:
01 ==> Simple techniques to tap into your hidden reserves of life energy. With these dead-simple techniques, you'll heal, restore, and revitalize yourself naturally.
02 ==> Instant Energy Medicine technique to overcome an afternoon slump. It takes less than 30 seconds, and you'll instantly feel better EVERY time you do it.
03 ==> Two fun energetic shortcuts to conquer stressful situations. Anyone can do this. You don't have to be a healer. It also turns you into a person others secretly admire.
04 ==> Can your energy help you choose the right food? Learn this unusual energetic testing exercise that'll show you what to eat with shocking precision.
05 ==> How a simple kitchen utensil can become a healing tool. It can't get any simpler than that! It could be surprisingly hard to dismiss the power of energy medicine after you watch this.
And so much more. The class is running several times a day for the next three days so you are sure to find a time that suits you. You can see all the details here >>
You'll walk away with 4 Energy Medicine tools you can start using today. Register here >>
Learn FOUR Powerful Energy Healing Techniques

So many of us believe our Energy Body to be something beyond our immediate grasp and so we fail to see the huge potential it offers. In a world where the non-stop striving — physically and mentally — for success drives everyone crazy… a slightest understanding of this Energy Body can be the much needed island of sanity.
That's why the Energy Body pioneers like the Healer's Healer, Jeffrey Allen are coming out of the woodwork to offer their gifts to you. In this case, Jeffrey is gifting you with a very practical, hands-on VIDEO training — the exact same training that helped hundreds of ordinary skeptics become huge fans of energy work.
Here's what you'll experience in this eye-opening training:
Learn the importance of living not just in the physical world but also in the spiritual world. And how you can function in duality to transform every aspect of your life.

FOUR

of Jeffrey's most effective energy healing techniques… that'll help you attract more abundance, more love, more good health and more happiness in your life (this results in remarkable synchronicity like nothing you've seen before!)
An incredibly simple "intuition exercise" you can use to get answers to any question — even beginners can use this simple technique to feel "more trusted and confirmed" and… enjoy a more perfect connection to their source.
The revelation that everything is energy (and learn how to use this scientific fact to become an exceptional healer and a creative powerhouse).
How to send beams of love to everything and anything… you'll be doing this

LIVE

with thousands of personal growth practitioners from around the world.
The power to heal others — and make a wonderful income.
How to leak-proof your personal energy — so you'll never lose the tremendous feelings of inspiration, love, wealth, harmony and peace that you experience in deep meditation. And you'll never have a dull moment in life.
If these kind of topics get you inspired, then please join us for a brand new Mindvalley Masterclass, where you'll learn the latest research on the subject. It's hosted by none other than Jeffrey Allen, who's widely known as "The Healers' Healer". You can get your free ticket here >>>
Can your body, even your blood, vibrate with love?
Love is the secret to healing and it has a higher vibration. As you know, human beings are a spiritual entity that is having a physical experience. That means, you have an inner energy (spiritual) and your body (physical) is a reflection of your inner energy.
When we are having a disconnect with our inner energy or if our inner energy is disturbed, the physical part of it, the body, starts reflecting what's underneath it. That's where illnesses start. So by connecting with and raising your inner energy to the level of love, you can heal yourself effortlessly. You just need to know how to connect with your energy and turn it around and that's what Christie Marie Sheldon is teaching in her Energetic Breakthrough Kit.
She is sharing with you her simple techniques to raise your energy vibrations, that have already helped over 30,000 people lead a healthy, peaceful and stress-free life: >>> Download your Energetic Breakthrough Kit here (yes, it's FREE)

Discover 12 powerful energy tools you can apply instantly to raise your vibration and clear your manifesting blockages — allowing you to finally accept everything the universe sends you… from Love to Abundance.
How To Tap Into Your Intuition For Fun And Profit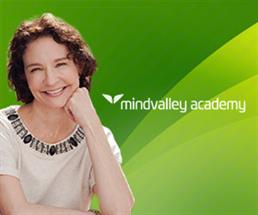 Albert Einstein said, "The only real valuable thing is your intuition" — but most of us can't consistently harness our intuition. Well, that's about to change.
Sonia Choquette, America's #1 intuition expert, is hosting a Free 5-Day Introductory Course on the Mindvalley Academy to teach you how to activate and strengthen your intuition, reconnect with your true self.
Use it to make better life decisions, improve every aspect of your life, and live a purpose filled, more intuitive life.
Go here to get your copy of Sonia's free 5-Day Intuition Introductory Course
Is this the future of meditation? (must-try audio exercise)
Do you meditate? Or are you at least curious about how this ancient practice can help you? Yes? Well we have a gift you're going to love from our friends at Mindvalley – one of the world's biggest online personal growth publishers. It's a free meditation audio. But with a difference. >>> Because you've NEVER heard anything like this before.
The audio uses a next-generation sound technology called Omharmonics, which Mindvalley has spent the past year developing with world-class consciousness engineers. The result is you'll be meditating like a Himalayan monk in minutes – even if you've never meditated successfully in your life.
The truth is, we've seen the spiritual community struggle with meditation for decades now. Many of us can't shake off mental chatter. We fall asleep. We get restless. We can't find the time to practice. According to Mindvalley, Omharmonics makes all these problems obsolete. Could this be the future of meditation? Grab a pair of headphones, set aside a few minutes, and be the judge:
>>> Go here to download and listen to your free Omharmonics audio.
The Mysterious Q Word
Qi. It's a word and a concept you may have already heard of – but maybe you don't know much about it. What is Qi, really? Well – it's a unique form of energy secretly hidden away within your body. (Yes, right now!) So now that you've "met" Qi… >>> Well it's time to introduce you to Gong.
Combined, the word Qi Gong translates to 'Life Energy Cultivation', and is the act of harnessing and using this energy to achieve your body's full potential. It's practiced by millions around the world every day, and its beliefs have spawned many similar practices such as yoga, tai chi, chakras and acupuncture to name but a few.
For some of you Qi Gong might not be a new idea, but for those of you discovering it for the first time, perhaps no one is better equipped to tell you about it than Lee Holden. Lee has hosted a number of hugely popular Qi Gong shows on PBS since 2005 and has become a household name in the process. Today we're teaming up with him to give you access to 3 free video lessons that will show you how you can start practicing this ancient art straight away – no experience necessary. That's the beauty of Qi Gong, anyone can do it!
>>> It's called Qi 101 and you can access the lessons for free.
Those who have seen Lee before will be happy to know he hasn't lost his fun and easy approach to energy… And those who haven't will experience an easy and adjustable introduction to Qi Gong that can only be found as part of Lee's new project – Modern Qi Gong. Here's to your healthy Qi!
The Life Changing Power of Lucid Dreams
If you're not Lucid Dreaming at night, you're probably missing out. BIG TIME. Lucid dreams are bizarre, but highly beneficial for a person seeking personal and spiritual growth. For this reason, I believe everyone in this world must learn to lucid dream. At least try.
It can help you get past the false reality that your mind has made up. A reality just like the one you see Leonardo DiCaprio's character navigates in the film, "Shutter Island." That's why I'm so excited to send you this opportunity for a FREE eye-opening training on Lucid Dreaming that's happening in Mindvalley Academy.
Andrew Holecek, the world famous Dream Yoga teacher is hosting a brand new Mindvalley Academy Masterclass on one of the most fascinating vehicles of personal and spiritual growth, Lucid Dreaming. Which is really cool because, some people say, Lucid Dreaming is the ultimate tool for CREATIVITY, INTUITION, HEALING, SELF-REALIZATION and even having lots and lots of fun. If you're pursuing any of these things, you must absolutely check this training out. Because this might be the shortcut you've been subconsciously looking for, for years. All the details are here.
These are the Lucid Dreaming techniques that… if you had gotten them a year ago… would have resulted in you having crazy real, HD quality lucid dreams every night.
If you've been wanting to get started in Lucid Dreaming but didn't know where to start, this masterclass will show you the best way. Andrew Holecek distills down more than 40 years of his study on Lucid Dreams into a jam-packed one-hour training session that you can immediately put to use. You can register for this free training by clicking this link.
Undo The 8 Spiritual Blocks That Keep Spiritual People From Becoming Truly Wealthy

If you struggle with the limiting belief that being both financially successful and a good, spiritual person are mutually exclusive…Then congratulations, your battle is about to end.
T. Harv Eker is going to help you undo the mental shackles holding you (and your wallet) back in his brand new masterclass: Register for the free Masterclass HERE >>>
Who is this gentlemen and WHY do I trust him? (and why you should too) T. Harv Eker went from zero to a millionaire in only two-and-a-half years… using the exact principles you are about to learn. He is now the author of the #1 New York Times bestseller Secrets of The Millionaire Mind and creator of the globally successful Millionaire Mind Intensive seminars.
During his 12 years of struggle, he vowed that should he ever get rich, he would help others do the same. And now he's keeping his promise by helping you – and the other over 1.5 million people he has already helped to move closer to their goal of true financial freedom.
In this brand new masterclass, Harv will reveal – for the very first time – the 8 Millionaire Blocks that stop spiritual people from becoming truly wealthy: Register for the free Masterclass HERE >>> Trust me, this isn't something you want to miss.
Discover How To "Bend" Reality To Your Will
Very. Interesting. Question: Is it possible to "bend" — or take 100% control of — your reality, allowing you to manifest your heart's hidden desires and live life the way you've always dreamed? What do you think?…
For me personally, I've always believed IT IS possible — very, very possible.
But honestly, I've always felt a bit "out of place" because whenever I look at the society and people around me, it looks like they're sleepwalking. They never take any big actions, get out of their comfort zones, or live a life that excites them… They never wake up into the life they could be living. But you're not like that — the very fact you're reading this proves it.
Maybe you need just a little bit more understanding of exactly how to take control of your life… How to have the right mindset to create happiness and opportunity… Or even just the courage to finally take the step you've been meaning to take for a long time now.
If so, then there's something perfect for you. Mindvalley Founder, Vishen Lakhiani, is giving you an opportunity to discover how to bend reality to your will so you can experience life the way you've fantasized for years. Click here to register for the free Become Limitless Masterclass >>>