Automatic Writing Books – Communicate with your Spirit Guides
Automatic Writing Books
A selection of automatic writing books to help you learn how to communicate with your spirit guides and higher self. Broaden your understanding of how to increase your psychic abilities by writing automatically.
Do you have a desire to learn automatic writing? If so, the books below can be of some help.
By learning to quiet your mind and conscious chatter in your head, you can allow your inner thoughts to come to the surface so you can gain a better understanding of yourself use the information to help you in life.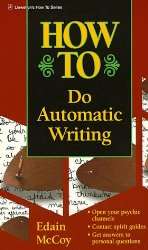 How to Do Automatic Writing (Llewellyn's "How-to" Vanguard)
Automatic writing is the process of receiving written messages channeled through the practitioner's own energy and that of higher intelligences.
This book offers a complete course in making automatic writing work. The reader learns how to receive and interpret messages in less than 60 days.
This book, How to do Automatic Writing, is a very short to the point book on how to quickly and easily do automatic writing anytime and anywhere. Automatic writing allows you to contact the spirit world to get instant answers about your life. It's like getting a free psychic reading anytime you want! Anyone from beginner to advance can easily do automatic writing by following the very simple and effective exercise in this book.
This book makes it so easy to do and requires no experience of any kind and will show you step by step how to quickly get accurate information from the universe through automatic writing. You will be able to get answers about your past, present or future situation in your life concerning money, love, health, psychic abilities and many more things as well. Over 20 years of experience has been accessed in this book to give you the most quick and effective way to do automatic writing and get immediate results.
1930. The author attempts to answer the following questions: what is automatic writing; what makes a person do it; do you have to be queer to do it; is it a spirit phenomena; could I find something in me I did not know existed; can everybody do it; are there any mental or organic mechanisms we must consider; are there any advantages or disadvantages to doing automatic writing; are there any other forms of automatic activity. Many examples of automatic writing and drawings.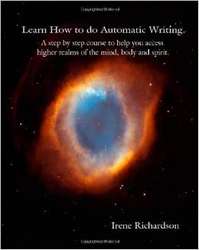 Learn How To Do Automatic Writing: A Step By Step Course To Help You Access Higher Realms Of The Mind, Body And Spirit.
Learn how to do Automatic Writing is a step by step course to help you access higher realms of the mind, body and spirit. This workbook will guide you through the different steps required to become successful with Automatic Writing.
In this book you will learn how to: Contact family members who have passed on. Contact your Spirit Guides and Guardian Angels. Find a teacher from another Galaxy. The possibilities are endless once you learn how to do Automatic Writing. This is an interactive workbook and will require time and patience on your part as the reader. You also have access to the Author if you become stuck or unable to move forward in your pursuit. Learn at your own pace. There is no pressure. Just enjoy the journey!
Find more automatic writing books information on this page.
Practice Automatic Writing – Detailed information on how to begin writing automatically, including what to expect from your first few sessions.