51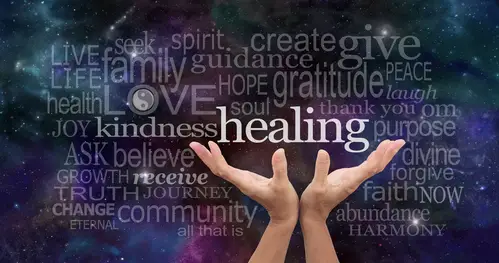 Signs You Are A Healer
Are you having trouble fully accepting your gifts as a healer? Find out how to integrate who you are at soul level with who you are currently. Awhile back I wrote this post, Are You a Spiritual Healer? In it I wrote about identifying your unique gifts. This article expands more into being able to fully accept those gifts.
What are the Traits of a Healer?
Do you resonate with some or all of these traits?
When you get together with friends or family, do you find yourself attempting to determine their mood when you first walk in the room? I used to do this quite frequently with my parents when we would sit down for dinner. I was trying to ascertain whether or not dinner was going to be pleasant. As I later came to find out this is referred to as energetic pinging and is a very useful method to quickly scan or read another persons energy body.
Do you find yourself gravitating toward websites and blogs that discuss developing psychic abilities, energy healing, and items of a spiritual nature? And by this I mean is the percentage of articles you read about this type of subject matter over 50% of your total reading?
How many decks of tarot, Angel, or Oracle cards do you have? How many more are you wanting to purchase?
Have you experimented with pendulum dowsing, candles, or other methods of retrieving information from spirit?
Have you taken classes in Reiki or similar types of energetic healing?
Do children and animals gravitate toward you?
Are you highly sensitive to the energy around you? Your energy may cause light bulbs to burn out frequently or cause street lights to flicker.
Are you extra-sensitive to watching violent movies or scenes on television? Has this sensitivity increased in the past five years or so?
Can you read people's emotions and energy easily and know exactly what kind of mood they are in? When you mention what you have noticed to someone else, have others not been able to see it and look at you strangely?
Do changes in the weather change your mood drastically? Can you sense energetic changes in the Earth such as earthquakes or hurricanes?
Do you avoid shopping malls or other large groups of people because you come home feeling completely drained?
Do you feel quite shy in a large crowd of people, even when you are normally quite outgoing?
Do you feel like an emotional sponge for friends and family? Are you the "go to" person for sorting out another's problems?
Do you avoid arguments or emotionally charged situations? Are you a peacekeeper?
Do some people take an instant dislike to you? It because they are rejecting your healing energy.
Have you had other paranormal experiences in your life?
Are certain drugs ineffective on you or do you have an odd or opposite reaction to them?
Allowing Yourself to Accept the Gifts
All of the traits above are signs of being an empathic healer. Some of them may be so strong that you can experience physical symptoms from them such as migraines or aches and pains. If you answered yes to most of these traits there is a PRETTY GOOD CHANCE you are indeed a healer.
Just sit and think quietly for a moment. Ask yourself, "Am I a Healer"? If the answer that floats back to you is a comforting yes and a knowing at soul level, then the next step is to consciously accept it and begin to let it shine to the world.
Congratulations!
This is the point where most of us want to start running for the hills. Accepting it is one thing, but knowing what to do with the knowledge can be quite another. You mean to tell me that this is what I am supposed to be doing with my life?!!! If you just got a sense of total unease, sweaty palms and a feeling of nauseousness, I completely understand. Just take it one step at a time. You don't have to do a 180 degree turn from your current life immediately. Just start taking steps in that direction.
Also, some of you may not consider yourselves healers because of the traditional medical views. We think of healers traditionally as doctors or nurses. There are many types of healing and many of them are just starting to be recognized as valid in traditional medicine, such as Reiki, Matrix Energetics and yoga.
Once you have fully acknowledged your healing gifts you can begin to make sense of what is happening to you and how you can best bring your gifts to the world.
Developing Your Intuitive Gifts
Taking an intuitive development course can go a long way in understanding how to use these gifts and integrate them into everyday life. One of the courses I took to start developing and making sense of these of these abilities was Soul Realignment™ with Andrea Hess. To learn more, click here.
Can your body, even your blood, vibrate with love?
Love is the secret to healing and it has a higher vibration. As you know, human beings are a spiritual entity that is having a physical experience. That means, you have an inner energy (spiritual) and your body (physical) is a reflection of your inner energy.
When we are having a disconnect with our inner energy or if our inner energy is disturbed, the physical part of it, the body, starts reflecting what's underneath it. That's where illnesses start. So by connecting with and raising your inner energy to the level of love, you can heal yourself effortlessly. You just need to know how to connect with your energy and turn it around and that's what Christie Marie Sheldon is teaching in her Energetic Breakthrough Kit.
She is sharing with you her simple techniques to raise your energy vibrations, that have already helped over 30,000 people lead a healthy, peaceful and stress-free life:  >>> Download your Energetic Breakthrough Kit here (yes, it's FREE)
Discover 12 powerful energy tools you can apply instantly to raise your vibration and clear your manifesting blockages — allowing you to finally accept everything the universe sends you… from Love to Abundance.
Free Numerology Reading
Do you want to know what your personal numbers are and what they mean in your life? Find out what makes you tick. Reveal your true nature and character and use it to change your life. Get a free numerology reading from a master numerologist by clicking here.
Work with Me
If you are stuck with what your soul level gifts are and what you are meant to bring to this world, book an Akashic Record reading and find out.
Save
Save